William Robert Wilson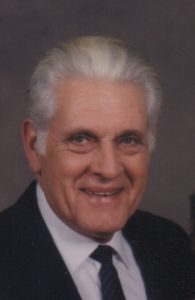 DOVER, Del. — William Robert Wilson of Dover, went home to be with the Lord, Thursday, June 1, 2017, in Kent General Hospital. He was 84.
Bill was born Oct. 20, 1932, in Brooksville, to the late Rufus and Bessie (Huddleston) Wilson.
He received a bachelor's degree in Agricultural Science from the University of Kentucky in 1954; and served proudly in the United States Air Force for eight years.
Mr. Wilson then embarked on a career as a pilot for Pan American Airlines, flying for over 16 years, before retiring in 1982. After his retirement from the airline, he worked for several years for Colonial Investment Management Company in Dover. Bill was also the owner of the Flagstone Restaurant on Loockerman Street in Dover in the late 1970's through the early 1980's.

Bill was a devout Christian, and is a member of the New Harvest Baptist Church and a former member of First Southern Baptist Church, both in Dover.
In addition to his parents, Bill was preceded in death by his wife, Sue Carol Wilson, who passed in 2009; and his grandson, Mitch Hill Jr.
Bill is survived by five children, Jiliana Wilson of Dover, Lisa Jump and husband, Harold, of Newtonsville, Ohio, Melanie Peterson and husband, Douglas, of Camden, Del., Anne Kitchen of Dover, and Dr. William R. Wilson Jr. and wife, Millie, of Cambridge, Ohio; 12 grandchildren; and 10 great-grandchildren.
Services will take place at 7 p.m., Monday, June 5, 2017, in Pippin Funeral Home, Inc., 119 West Camden-Wyoming Ave., Wyoming, Del., where family and friends may view two hours before.
Burial will take place privately.
In lieu of flowers, contributions may be made to Giddeons International, Central Delaware Camp, P.O. Box 622, Dover, Del. 19903.
Condolences may be sent via: www.pippinfuneralhome.com.