William "Bill" Smith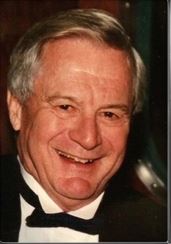 Cheshire – William "Bill" T. Smith, 84, passed away Friday August 19, 2016 after a valiant battle with cancer. He was the beloved husband of 56 years of Shirley Brown Smith. They moved to Cheshire in 1968.
Bill was born April 27, 1932 in New Haven, Connecticut, son of the late Kelley T. Smith and Clara Wieland Smith. He was preceded in death by his sister Barbara Jean Compton.
Bill grew up in Hamden and as a boy was a soloist with the Trinity Boys Choir in New Haven. He was a graduate of Hamden High School, where he played hockey, sang in the choir and was a National Junior Rifle Champion.
Bill joined the United States Air Force and as an enlisted man was a jet engine mechanic. Recognized for his many aptitudes, Bill was offered the opportunity to attend pilot training. He completed his Bachelor of Military Science Degree from University of Omaha and was commissioned as an officer. He flew the F-86 and F-104 Starfighter.
Bill was awarded the Air Force Distinguished Flying Cross in 1959 for setting 4 world altitude time-to-climb records in the F-104.
In 1966, Bill was hired as a pilot by Pan American World Airways. He traveled the globe for 28 years, retiring as a "Clipper Captain". Following Pan Am, he worked for United Airlines for 10 years until 2001. Bill was a member of The Rotary Club (Hamden) and the Day Spring Lodge of Masons.
Bill is survived by his son Stanford and his wife Melissa Smith of Guilford, two daughters, Shirlene Smith of Dallas, Texas, and Alison and her husband Michael Thomas also of Dallas, and four grandchildren William, Logan, Michael Joseph, and Olivia.
Bill's love for his family and friends was evident in his generosity and spirit. He will always be remembered for his unyielding support of his family and many friends. He could fix almost anything that was broken and could always make you laugh. Bill will be sorely missed.
Arrangements- A Funeral Service for Bill will be held at 10 A.M. Thursday, August 25, 2016, at Mount Carmel Congregational Church, 3284 Whitney Avenue Hamden, CT 06518. Burial will follow in Cheshire Hillside Cemetery. Calling hours will be held Wednesday August 24th from 5 to 7 P.M. at The Alderson-Ford Funeral Home of Cheshire, 615 South Main St, 06410. Donations in Bill's name may be made to Mount Carmel Congregational Church, 3284 Whitney Avenue Hamden, CT 06518.