Thomas (Tom) Allen Bennett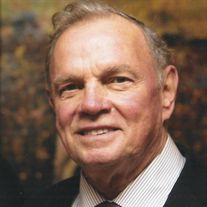 Thomas (Tom) Allen Bennett peacefully died in his home on December 9, 2014. Affectionately known as "Skipper" to his friends, Tom was born on February 19, 1939 in Englewood, NJ to the late Madeline and Edwin K. Bennett. He attended the University of Memphis and graduated from Christian Brothers University, Following graduation, Tom realized a life-long passion for flying as he proudly served as a 29-year veteran pilot in the Air National Guard as a Lieutenant Colonel and enjoyed a 30-year career as an airline pilot in the position of Captain for both Pan Am and United Airlines. The majority of his service was spent in California.

Mr. Bennett retired to Memphis in l996, where he remained an avid supporter of Christian Brothers, culminating in his induction into the Christian Brothers Hall of Fame in 2012. Among his many professional awards, he was particularly proud of his peer recognition with the presentation of the 2012 Wright Brothers Master Pilot Award, highlighting pilots who have demonstrated professionalism, skill and aviation expertise by maintaining safe operations for 50 or more years. Since retirement to Memphis, Tom dedicated his time to his family, friends, hunting, golfing, and travel. Tom loved the Grizzlies and Tigers Basketball. However, he always managed to carve out time to fly a plane and he never missed Jeopardy.

Tom is survived by his loving wife, Carolyn Williams Bennett, his three sons: Tommy Bennett (Allycyn), Terry Bennett (Lisa), Tim Bennett (Molly) and Duncan Williams (Abbie), and Emily Williams Dunn (Dr Walter) and his 13 grandchildren: Taylan Bennett, Corbin Bennett, Britton Bennett, Mary Franklin Williams, Allyn Ashley Bennett, Tyler Bennett, William Dunn, Duncan Williams, Colby Bennett, Carolyn Dunn, Brynn Bennett, Sewell Williams and Clay Bennett.

Funeral services will be held on Saturday morning, December 13, at 11:30 am in the chapel of Memorial Park Funeral Home with visitation scheduled prior to the service at 10:00 am. Reverend Ed Norton will officiate. The family requests in lieu of flowers, memorials be sent to Independent Presbyterian Church (where the Bennett's worship) or to The West Clinic.
(from http://www.memorialparkfuneralandcemetery.com/obituaries/Thomas-Bennett-4/#!/Obituary)