Thomas Dustin Foley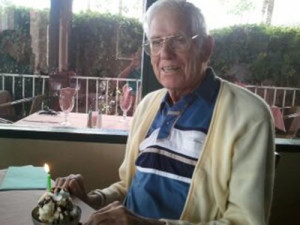 Thomas Dustin Foley
November 16, 1921 – November 26, 2015
Tom was born and raised in Omaha, NE.  His love of airplanes took off during high school when he began barnstorming around Nebraska.  He had an adventuresome 40 year career with Pan American World Airways beginning in 1942.  Tom was commissioned to fly for the U.S. Navy in the South Pacific during World War II. One of his memorable flights was as Captain of the last Pan Am flight out of Cuba at the beginning of the Cuban revolution. During his career, he had the opportunity to fly multiple aircraft, from landing on the water in the iconic Clippers to the Boeing 747.  He was based in New York, Miami, and San Francisco. He lived for many years in Miami, FL, then Menlo Park, CA, Port Ludlow, WA, and Palm Desert, CA. While in Palm Desert, Tom enjoyed living in Sandpiper and the Mirage Inn.
Tom was preceded in death by Marjorie Tyrrell Foley and by Olivan Jarrendt Foley. He is survived by five children: Ralph (Linda) Jarrendt, Kathy (Forrest) Dickinson, Dara Jarrendt, Linda Foley, and Margie (Tom) Badyna, by five grandchildren, and four great grandchildren. The lessons he taught us by example will always honor his name.
Memorial donations may be made to NeuroVitality Center (formerly Stroke Recovery Center), 2800 Alejo Road, Palm Springs, CA 92262.