Roy F. Eckert
Roy F. Eckert Oct. 11, 1916 – Aug. 27, 2014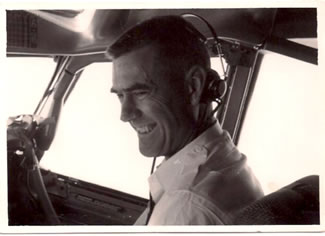 Born in Perry, TX, Roy graduated from Sunset High School in Dallas at age 16. During his youth, he would sometimes accompany his father, Fred, on his job as a railway postal clerk for the Post Office. He rode in the mail car helping his father sort the mail and deliver sacks to the small towns and cities along nighttime routes in Texas and surrounding states.
He married Florence in Dallas in 1937 and moved to College Station where Roy pursued a degree in electrical engineering. While there, he was convinced by a good friend to take flying courses through the Civilian Pilot Training program.
After graduation, he took a job with Westinghouse Corp. requiring a move to Pittsburgh, PA. He continued to take flying courses through the CPT and earned private & commercial certificates and instrument & multi-engine ratings. After several more moves, landing mom & dad in Santa Monica, CA with jobs at Douglas Aircraft, he received a letter from his draft board informing him that he would be required to serve his country. Since he was considered too old for combat flying, he was assigned to choose from a list of four commercial airlines that had War Dept. contracts. He always claimed the only one he had heard of was Pan American World Airways, for which he went to work in 1943. After flying personnel and materiel in Consolidated PB-2Ys in the Pacific, Roy returned home to the Bay Area of California and settled into a career as an airline pilot.
During the next 22 years, he served his fellow Pan Am pilots as a union representative with the Air Line Pilots Association and worked closely with ALPA founder David L. Behncke.
During his 32-year career, Roy flew many piston-engine commercial aircraft, including the Martin M-130 "China Clipper," Douglas DC-3, DC-4, DC-6, DC-7C and Boeing 377 Stratocruiser. When he finally checked out as Captain, it was on the first jet flown by Pan Am, the Boeing 707.
In 1954, Roy and Florence had a ranch-style home built on Sunkist Lane in Los Altos where they lived for 56 years. Roy enjoyed three primary activities during his career and later in life: Scouting, cycle touring and square dancing.
Roy was an Eagle Scout as a young man in Dallas, and the movement had a deep influence his sense of self and leadership. When his sons joined Troop 39 in Los Altos, he served as a an adult leader and Scoutmaster. After his sons left Scouting, Roy continued to serve the Stanford Area Council as an adult leader trainer on Wood Badge courses, receiving the Silver Beaver award for his activities. He attended Scout Jamborees in Australia and Japan and had an international network of Scouting friends.
After Roy's retirement from Pan Am in 1975 he and Florence enjoyed bicycle touring in several countries in Europe. They had many friends from their 30+ years of square-dancing with the Spinning Wheels Club in Los Altos and were dancing well into their 80s.
Roy & Florence were longtime members of the United Methodist Church of Los Altos where they had many friends.
Roy was dedicated to his family and his church. He was respected in his profession and lived by the tenents of tolerance, fairness, teamwork and leadership. He was a loving husband and father.
Roy is survived by Florence, his wife of 77 years; sons Michael of Iowa City, IA and Stephen of Boulder, CO; grandchildren Adam, Andrew & Tess, nephews Fred of Lubbock, TX, David of Plano, TX, niece Judy Ikels of Bethesda, MD and cousin Blodwen Tarter of San Francisco.