Robert Joseph Huettl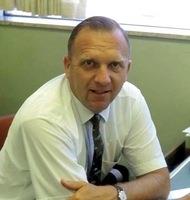 Robert J Huettl 93, died on May 20, 2017. Bob was born on June 2, 1923 to Charles Leo Huettl and Helen Mary Huettl in Mankato, Minnesota. He was a resident of Cupertino, CA.
Born into family with deep roots in the Catholic Church in Mankato, he was a top student at the Loyola Schools. He joined the Navy at the start of WW2.
He became an Aviation Machinists Mate First Class. From bases in Alameda and Pearl Harbor, he saw combat while supplying the island-by-island fighting as the allied forces advanced on Tokyo.
After the military, he enjoyed a long and happy career with Pan American World Airways, where he became the Chief Flight Engineer at San Francisco International Airport.
He met his future wife Nancy Jane Huettl, a Pam Am stewardess, while on layover in San Juan, Puerto Rico.
His career included varied assignments such as: flying the 1961 Berlin Airlift when the Soviets were building the Berlin Wall; Charter flight crew for the Press Corps on President Reagan's trip to China; Volunteered as replacement crew for hijacked 747 in Karachi Pakistan and subsequent recovery flight from Karachi to Frankfurt of bomb-damaged plane; Flew a leg of the record-setting circumnavigation round the world flight; Charter flight crew for Super Bowl Champion Washington Redskins.
Preceded in death by his wife of 60 years, Nancy Jane Huettl; he is survived by seven children – Monica, Suzanne, Ken, John, Martha, Joe and Ed, and nine grandchildren as well as generations of nieces and nephews. Known for his bicycle riding, love of classical music and opera, and his self-deprecating humor, he will be missed.
Funeral Mass will be held on Friday June 2, 2017 at 11:00A.M at ST. JOSEPH OF CUPERTINO PARISH, 10110 N. DeAnza Blvd., Cupertino. Reception to follow. – See more at: http://www.legacy.com/obituaries/mercurynews/obituary.aspx?page=lifestory&pid=185627141#sthash.VlmbQZVJ.dpuf