Robert C. Willeumier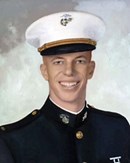 Robert C. Willeumier, age 78, passed away in Sept. 2017. He was born in 1939. Bob was a proud Marine Corps Veteran serving two tours as a combat and helicopter pilot during the Vietnam War; a retired Captain with Pan Am Airlines flying 747's; retired Barrington firefighter with 30 years of service; an avid horseman, owning horses for 40 years and proud owner of recent horses, Velvet Dancer and Zips-Zippy.
Visitation will be Saturday, September 23, 8:30 a.m. to 9:45 a.m., at Ryan-Parke Funeral Home, 120 S. Northwest Highway (two blocks south of Touhy), Park Ridge. Funeral Mass will follow at

10 a.m.

at St. Paul of the Cross Church, 140 S. Northwest Hwy., Park Ridge. Interment will follow in Ridgewood Cemetery, Des Plaines. In lieu of flowers, memorials in Bob's name to one of the following, ASPCA, American Society for the Prevention of Cruelty to Animals,www.aspca.org; National Fallen Firefighters, www.firehero.org; Navy-Marine Corps Relief Society, www.nmcrs.org are appreciated. For information, 847-823-1171 or www.ryan-parke.com.