Robert 'Bob' Kenneth Frank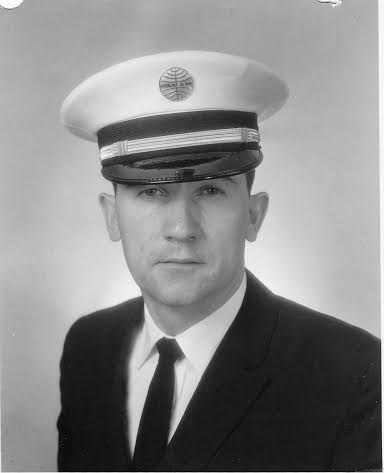 Captain Robert 'Bob' Kenneth Frank, 79, of Shelter Island died on August 2, 2014.
He was born July 31, 1935, in Brooklyn, New York, to the late Charles F. Frank and Anna H. (Batterman) Frank; and was husband of the late Sandra P. (Case) Frank who died June 1, 2013.
Bob graduated in 1953 from Sewanhaka H.S. in Floral Park, N.Y. He served in the USNR Air Development Squadron III 1955-57, he studied at Hofstra College, N.Y. and the State University at Farmingdale, N.Y.
In 1962, Bob soloed at Zahn's Airport, N.Y. Between 1964 and 1965 he flew for Travel Air Service, Block Island, R. I.; Empire State Airlines, Syracuse, N.Y.; and Mohawk Airlines, Utica, N.Y. Bob joined Pan Am in 1965 based out of JFK and flew international routes for 26 years. In December 1990, he captained the MAC 6858 to Dhahran, Saudia Arabia for which he later received the Civilian Desert Shield and Desert Storm Medal for outstanding achievement by the Air Force
Bob married Sandy February 14th, 1970. In 1978 they moved to Shelter Island, N.Y. to raise their children. Bob loved flying, boating, building and flying model airplanes, and working outdoors. He was a member of ALPA, the Pan Am Historical Foundation, the Long Island Early Fliers Club, the American Institute of Aeronautics and Astronautics, and the Academy of Model Aeronautics.
Bob is survived by his children Jennifer, Stephanie, Laura and Charlie; his grandchildren Tyler, Caitlynn, Colin, Lauren, Johnny, and Kenny; his brother Charles E. Frank; his niece and nephew Barbara and Robby; as well as several beloved friends and neighbors.
A funeral mass was held on August 8, 2014, at Our Lady of the Isle Church. Internment followed at Our Lady of the Isle Cemetery.
The family requests memorial donations be made to the Pan Am Historical Foundation or Our Lady of the Isle RC Church.