Paul Monte "Pete" Ryden
Aug. 17, 1927 – Feb. 3, 2017
San Jose, Ca.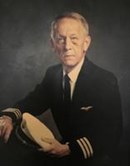 Paul Monte "Pete" Ryden of San Jose peacefully left this world to be with his Savior early on the morning of February 3, 2017. He was 89 years-old.
Pete was born in Minneapolis, MN on August 17, 1927 to Paul and Ebba Ryden. A true patriot, he longed to contribute to the war effort in WWII but was too young in the early days of the war. So at age 15, he and a couple friends concocted a scheme to help the Royal Canadian Air Force with reconnaissance missions over Germany. It didn't work. He eventually served his own country in the U.S. Navy before pursuing a career in aviation.
Pete enjoyed a lifelong love affair with flying and loved every day of his career as a flight engineer for Pan American World Airways, for whom he traveled the world for almost forty years. He was also active in the leadership of the flight engineers union.
Pete was an avid golfer and late in life spent Sunday afternoons in the fall glued to whatever NFL games were on TV. His world travels brought him in touch with a wide variety of international cuisine, most of which he could replicate with uncanny accuracy and flair. His clam chowder, which he freely shared with others, has been a favorite of friends and family for years. As Pete himself said, "There is none better anywhere in the world. False modesty doesn't become me!" He was a man of sharp wit and never took himself too seriously.
Pete was predeceased by his sisters Genevieve Thompson and Phyllis Crone, daughter Elizabeth Farrell and granddaughter Holly MacKenzie.
He is survived by his wife, Lura, with whom he celebrated 65 years of marriage a week before he passed. They were active members of Blossom Valley Christian Church. He is also survived by his son, Paul Ryden (Vicky) of Duluth, GA, two granddaughters, Jennifer MacKenzie of Mendon, MA and Lindsay Ryden of Atlanta, GA, and one great grandson, David John Cannon of Mendon, MA.
A memorial service for friends and family will be held at the Villages clubhouse in San Jose on Saturday, March 4 at 11:00 AM.
In lieu of flowers, please send donations to the Villages Medical Auxiliary, 5000 Cribari Lane, San Jose, CA 95135.