Paul Arvid Taipale, 1926-2015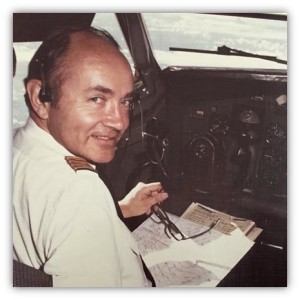 Paul Arvid Taipale celebrated his 89th birthday on September 17th in the company of his sons, Kim and Forest, his daughters, Michèle and Katia, and Maria, his beloved wife of forty-one years. While he did not quite have the breath for candles, he was still able to enjoy a bit of cake and to take in the love, good wishes and good-byes of those he most cared for. He died peacefully at home in Bellevue, Washington, on Friday October 9, 2015.
The son of Finnish immigrants, Aino and Arvid Taipale, Paul grew up on New York's Long Island, with the exception of a memorable year's sojourn, 1932-33, in Finland. Early on, Paul was drawn to the magic of flight and did whatever he could to get flight time and flying lessons. He soloed at the age of 15 and, after following his father's footsteps by serving in the U.S. Navy for two years, he and some of his entrepreneurial aviator buddies started a banner towing business along the beaches of Long Island using WWII surplus Stearman bi-planes.
In 1951, Paul left the bi-planes behind and became a Pan American World Airways pilot. Flying in the heyday of the airline industry, Paul relished his travels, enjoying the highlights of cities across the globe from Istanbul to Beirut, from Buenos Aires to Tokyo. He flew out of Pan Am bases on both the East and West Coast of the U.S., as well as Berlin, Germany and, after Pan Am sold its Pacific routes, he flew three years with United Airlines. The airlines gave him the opportunity to expand his worldview and live out a multitude of adventures that made for dinner table tales that were both harrowing and hilarious.
At 6'1", with dark hair, beautiful deep blue eyes and, at times, an uncanny resemblance to Sean Connery, Paul made a dashing figure in his captain's uniform. He flew every type of airplane that Pan Am used from the the early 1950's forward. In 1968 he even broke the world record for passenger plane flight time from London to Chicago with 131 passengers and ten crew members aboard his 707, making the trip in 7 hours and 10 minutes (one hour and 37 minutes faster than scheduled).
Paul's passion for flying extended to his free time: for most of his adult life he owned a variety of classic small airplanes, mainly vintage taildraggers. All of his children grew up spending time at the controls of one airplane or another and two of them went on to get private pilot's licenses of their own. After his retirement in 1989, Paul volunteered for the Flying Eagles Program – continuing to introduce children to the delights of hands-on flying. His patience and extreme calm in crises made him both an exceptional pilot and an excellent instructor. Paul continued flying into his late 80's and had just recently donated his last airplane to the Museum of Flight.
Paul was a loyal and attentive father, uncle, husband, and friend. A prodigious correspondent, his friends and family members received thousands of letters written on his old Remington Royal typewriter, a gift from his parents for his 14th birthday that he used until 1989 when he received his first computer from his children for his 63rd birthday. He had a knack for drawing and many of his letters included hand-drawn cartoons with clever quips.
Although Paul will be deeply missed, we celebrate a life well lived. A man who loved his career, had four healthy successful children, a long and happy retirement, close friends he kept for a lifetime, and a rich forty-one year marriage to a woman he adored. This was a good life, indeed, and he approached his gentle death with the same quiet equanimity, courage, and strength that he lived his life. We are inspired and grateful.
Paul is lovingly remembered by his children and wife, his daughter-in-law, Nicole, his grandson, Palmer, and first wife, Heidi. A celebration of Paul's life will be held in the next year at the time of the 90th anniversary of his birth. In lieu of flowers, memorials may be made in Paul's name to the Museum of Flight or to a charity of your choice.