Morgan Dale "Bud" King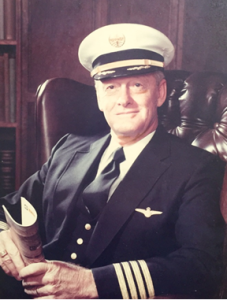 Morgan Dale "Bud" King, age 94, passed away peacefully in Reno, Nevada on January 11, 2015. He is survived by his loving wife of 48 years, Mary Ann King.
Born on February 4, 1920 in Dickens, Iowa to the late Frank and Grace King, Bud was the eldest of three children. He was preceded in death by a sister Yvonne Kampfe, of Phoenix Arizona. Sally Johnson, his surviving sister, resides in Phoenix.
After two years at Iowa State Teachers College, Bud joined the Army Air Corps and was commissioned from flight school in August, 1942. During WWII, he flew troop supply along the South Pacific Corridor and was one of the first 'yanks' to enter Tokyo with MacArthur after the bombing of Hiroshima. After the war, he was active in the Air Force Reserves, attaining the rank of Lt. Colonel. Following his military service, Bud joined Pan American World Airways and enjoyed a 33 year long career retiring as a Check Captain in 1980.
Bud leaves behind four children: Sandra Dale Hollingsworth (Byron) of Haymarket, Virginia; Barbara Joanne "Jody" Gentile (John) of Culpeper, Virginia; Morgan Dale "Skip" King, Jr. (Miriam) of Reno, Nevada and Kirby Mitchell King (Lynn) of Culpeper, Virginia. He is also survived by seven grandchildren, eight great-grandchildren and several nieces and nephews.
Bud was a kind, gentle man who was a loving husband, a devoted father and grandfather and a loyal friend. He will be greatly missed by all who knew and loved him.