Lester (Les) McDevitt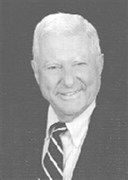 Lester Les McDevitt, age 87, passed away on Friday May 27, 2016 in Ponte Vedra Beach, FL. Les was survived by his beloved wife of 62 years, Mary; three children, Katherine, William, Todd (Susanne); and three grandchildren, Anna, Meredith, and Jacob McDevitt. He was preceded in death by his sister, Janet and his daughter, Barbara. Les was born in Cincinnati, Ohio on August 1, 1928. He graduated from St John's Military School in Delafield, Wisconsin and then attended the University of Cincinnati.
Les enjoyed a meaningful career starting in 1948 when he joined the US Forest Service as a Pacific Northwest Smokejumper. He enlisted in the US Navy and served five years active duty as a carrier fighter pilot on the USS Midway. He was a Navy Reservist for fifteen years, and retired as a Commander.  Following active duty, he was a commercial pilot for Pan American World Airways where he captained 747 jumbo jets for 33 years.
Les married Mary Wendy McDevitt in 1954, and they raised a loving family.
Les' volunteer endeavors reflected his devotion to his faith and community. He served as President of the Ponte Vedra Coalition, as a board member of Ponte Vedra Beach Friends of the Library, and as a member of the St John's County Round Table.
Les was a devoted member of Christ Episcopal Church and a member of Christ Church Foundation in Ponte Vedra Beach and St. John's Episcopal by The Lake in Onekama, MI.
Les loved the water and boating, and was an avid tennis player. He spent summers at Portage Lake, Michigan with his many dear friends.
A celebration of Les' life will be held at Christ Episcopal Church at 11:00 am on Friday June 3, 2016.
In lieu of flowers, donations in his memory may be made to Christ Episcopal Church, 400 San Juan Drive, Ponte Vedra Beach, FL 32082, or to the Alzheimer's Association of Central and North Florida, 4237 Salisbury Road, Suite 406, Jacksonville FL 32216.
Please visit our online Tribute at quinn-shalz.com. Services under the direction and care of Quinn-Shalz Family Funeral Home
Published in the Florida Times-Union on June 1, 2016 – See more at: http://www.legacy.com/obituaries/timesunion/obituary.aspx?n=Lester-McDEVITT&pid=180180749#sthash.fqivOOkr.dpuf