Karl Frederick Anderson, Jr.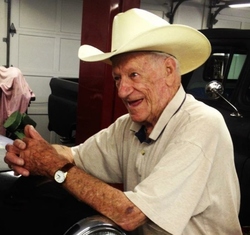 Karl Frederick Anderson, Jr., 90, of Berryville, Virginia, died Saturday, October 7, 2017 at his residence.
Mr. Anderson was born July 8, 1927 in Plymouth, Massachusetts, the son of the late Karl Frederick Anderson, Sr. and Lillian Everson Anderson.
He retired as a flight engineer with Pan American.
He served in the U. S. Navy during WWII.
He was an avid car enthusiast and a member of Antique Automobile Club of America. He was also a member of the Clarke County Lions Club, American Legion, VFW, and Clippers Pioneers.
He married Dorothy Ethel Anderson on February 28, 1948 in Manhattan, New York. Mrs. Anderson died on September 23, 2006.
Surviving are two sons, Karl F. Anderson III (Ronni) of Martinsburg, WV and Bill A. Anderson (Cindy) of Berryville, VA; two daughters, Norma Anderson Nemith of Morganton, NC and Mary T. Anderson of Dahlonega, GA; a brother, Harold Anderson of Blairsville, GA; 11 grandchildren and 7 great-grandchildren.
A grandson, Karl Frederick Kline, preceded him in death.
Funeral services were held 10:00 A. M. Tuesday, October 10, 2017 at Enders & Shirley Funeral Home Chapel, Berryville with Rev. Stanley J. Krempa officiating. Burial follwed in Green Hill Cemetery, Berryville with military honors provided by the Clarke County Honor Guard.