Ira Joel Moore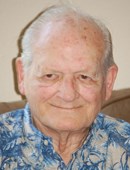 Ira (Joe) Moore
, age 95, died peacefully at home at La Vida Real in El Cajon, CA on November 2, 2016. Joe was born in Waco, Texas on September 11, 1921 to William Grover Moore and Annie Elizabeth Pickens. He married Dorothy (Dottie) Johanna Hopf on September 12, 1942. They had three children. Dottie passed away in 2006. Joe has lived in El Cajon for 35 years.
Joe excelled in math and science in high school and college. This attracted the attention of Army recruiters in 1941.
At age 20, he became an Army instructor pilot in Corsicana, Texas. He trained recruits to be pilots for the Army Air Corps (precursor to the Air Force). Joe was a Flight Commander when he was honorably discharged in 1945.
In 1945, Joe was hired by Pan American World Airways (Pan Am), and was based in Brownsville, TX, New Orleans, Bogota, Columbia, Miami, New York, Rome, Italy, and San Francisco. Joe flew many aircraft for Pan Am, including Boeing 707 and 747 aircraft. In 1980, when diplomatic relations with China were resumed, he was honored to be a pilot on the first scheduled commercial flight into China since before WWII.
Joe retired in San Francisco in 1981.Joe and Dottie took many camping and skiing trips into the Sierras with their children. His love for fishing led him to drop a line during layovers in far off places around the world. A few times he shipped fresh Arctic char home from layovers in Frobisher, Canada.
Joe was a loving husband, father, grandfather, and great-grandfather. For the past six years he has been the special friend of Muriel Nicholls. Joe leaves behind his loving companion, Muriel, son, Don Moore (wife, Shirley), daughter, Judy Paulson (husband, Doug), grandchildren, Steven Moore, Andrew Moore, Sarah Moore, Wendy Paulson Greene (husband, Mike), David Paulson (partner, Joe), and great-grandchildren Ava Greene and Jackson Greene. He was preceded in death by his parents, five siblings, his loving wife of 63 years, Dottie, and his first son, Joel.
Joe was an exceptional man and a great pilot. He loved every minute of his flying career, having seen most of the world from 35,000 feet in the air. Everyone who crossed his path, whether close to home or in the far reaches of the world, greatly admired and respected him. May you have a glorious final flight, Captain Moore.