Frank J. Bull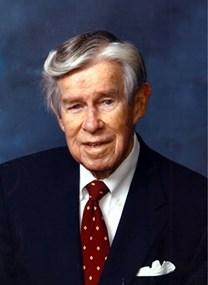 Frank J. Bull, 92, of Atlanta, passed away Thursday, Oct. 9, 2014. Born in Chattanooga, Frank was a founding partner of Bull & Kenney Architects and Bull, Brown & Kilgo, Architects AIA. Survivors include his wife of 65 years, Betty Graham Bull; son Birney Bull and wife Deborah of Savannah; two grandchildren; nieces and nephews. He was preceded in death by his parents, Louis H. Bull, AIA, and Augusta Clausius Bull, and daughter, Lisa.
In WW II, Frank was a Navy pilot, flying B-14's. He flew for PanAm before receiving degrees from Georgia Tech in 1948 and 1949. He was a charter member of Cherokee Town & Country Club, charter trustee of Holy Innocents' Episcopal School, and a founder of Galloway School. An early authority on asbestos abatement, he served on the board of directors of the AIA-Atlanta chapter, National Asbestos Council, and Compass Environmental, Inc. He was an avid golfer and Tech fan.
Memorial services and inurnment will be held at Holy Innocents' Episcopal Church, 805 Mount Vernon Hwy NW, Atlanta, GA, 30327, Thursday, Oct. 16, at noon. Family will receive friends at the reception following at Holy Innocents'.