Donald Joseph Rees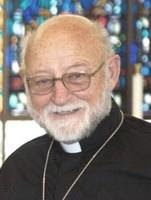 Donald Joseph Rees
April 10, 1925 April 11, 2016
Donald Joseph Rees was fond of saying that much of his life was run by following a check list, whether that was a structured check list or one that he felt the Lord was asking him to abide by. Following the check lists set by life, he survived and thrived. The Lord's check list included timely miracles. He was born on April 10, 1925, a healthy baby, to Susan and Joseph Rees. Susan was 45: miracle one. Check.
He graduated with honors from Ardmore High School, Ardmore, Pennsylvania, in February, 1943, in time to see that half his classmates were absent from the ceremonies.  He was 17; the nation was at war; and he wanted to fly. Volunteering for the Navy, he raised his hand when the instructor asked if there were anyone who wanted to be a naval aviator. 400 were picked, forty made it to a flight deck. Flying off the deck of the Aircraft Carrier USS Saipan, he said, was one of the most exhilarating experiences of his life.  In preparation for the invasion of Japan, the pilots were told that the navy expected that losses would be very high. Japan surrendered before his squadron was deployed. Miracles two and three. Check.
He joined the naval reserve after serving in Port Lyautey, French Morocco, and came home to marry Katharine Vandergrift in June of 1949. To support his little family of mother and wife, he worked as a "jumper" i.e., a milk man who relieved for regular drivers.  In addition, he joined his brother in law in the grocery business while continuing to apply to the airlines. Receiving job offers from three, he chose Pan Am, the "flag ship" for the United States.  He called her "The Queen of the Skies." Miracle four. Check.
As a pilot and flight engineer for Pan Am, Don's Itinerary included calling on four continents, flying to Sidney, to Hong Kong, to New Delhi, to Johannesburg to London to Rio and to every city of any nation where Pan Am flew. He would joke that he was not a name dropper; he was a "place" dropper. His experiences were many and varied, meeting and greeting notables to the cockpit in safer times; but the most memorable was when he delivered a baby (whom the mother named Donaldo) on a flight from Puerto Rico to Miami. The quality that made that event even more striking was that he arrived home in a stained uniform to meet Katharine at the hospital to deliver their fourth child, Christian, and from whose birth he was prohibited to watch or to support. The picture of wife, child and the quasi obstetrician was printed in every major newspaper in the United States and many abroad, including the London Times. Flying for Pan Am at that time was the pinnacle every person in a flight uniform yearned to achieve. Miracle five. Check.
His love of God and his church was paramount in his life's experience.  He rarely missed a Sunday in worship whether he was in Morocco or Turlock. An ordained deacon of the Episcopal Church, he weathered differences in theology by attending and serving at both his beloved St. Francis and Grace Anglican Church.  He was a great conciliator and lover of people which he equated as fulfilling his calling to serve. Visiting the ill and serving communion to the home or house bound was an obligation which he joyfully and simply supplied. Miracle six. Check.
Second to his love of family and church was his love of music; he could play any instrument with a reed.  He could sit at a piano and compose songs that he "could hear in his head."  He would be asked, "What was that?" He would answer, "I don't know; just came out of my head." Jamming at a club called Sharondickities in the 1980s, he was recognized by Dek Hogin as a consummate the jazz musician to whom Don humbly divulged, "I could be better." That statement was refuted by Dek as he made Don his clarinetist in the band Hogin's Heroes and a member of the newly formed Modesto Dixieland Jazz Society for whom Don played until months before his illness. Hogin's Heroes played in the Sacramento Jazz Jubilee, the Monterey Jazz Jubilee, and in any venue across the state that appreciated and loved dancing to the Chicago style music that was Dek's favorite genre, and to their Dixieland offerings. The Stockton Dixieland Jazz Society was a favorite jamming and jazz location which he visited every first Sunday of the month. He could and would play to any type of music even had he never heard the song.  He said, "It's all in knowing the chords." His ear was infallible; when he asked for requests from an audience, he would say, "Hum the first notes," then he would swing in with the perfect rendition.  His favorite gig was "playing for the old folks" in rest homes or retirement facilities.  At 90 he was older than most of his audience. He sang in many choirs with many directors and they all depended on his keeping the bass sections on key and in rhythm; and, therefore, keeping the whole choir supported. He professed that any musical ability he had was a gift from his Lord.  Miracles seven and eight. Check
He fathered five children, Barbara Reed (Philip); Joseph (Lucy); Donald (Reesa); Christian  (Carmen); and Andrew (Melisa); all of them healthy, enterprising, hardworking, and gifted. Adjectives fail to describe how talented they all are. Miracles all. Check
The family lost wife and mother to cancer on her birthday in 1980. She and Don had been married for 31 years.
At a jamming session, he met Mary Vanoy. They were married in 1982, and their experiences were the stuff of dreams: the sharing of births on both sides of his families of 23 grandchildren and 20 great grandchildren, the flights to foreign lands and trips across the country in various modes of transportation with children and/or friends in tow.  He counted his step-children as his own and acknowledged them as such when he introduced Debbie Tavernier (Rocky); Bo Vanoy (Betty); and Lisa Merriam (Jim) to anyone.  They became his committed and loyal children, contributing countless hours of attachment and the gifting of their children and their children's children as their grandfather and their GGPA. He participated and rejoiced in their accomplishments for the 34 years that they belonged to him. Miracle 10. Check.
His golf buddies of 19 years became an integral part of his life as were the group called the CRS, who acknowledged him as family.
He was young for every minute of his life.
Viewing of the closed casket and communing with family will be on April 18 from 4:00 to 7:00. The funeral is scheduled for Tuesday, April 19, at 10:00 both at St. Francis Episcopal Church, 915 E. Main Street, Turlock. The Graveside service will be held at Lakewood Memorial Park 400 Sante Fe Ave in Hughson following the funeral. Upon completion of graveside service there will be a reception at approximately 12:30 at Assembly of God Annex at 150 North Pasadena, Waterford Ca. Gifts in lieu of flowers may be made to St. Francis.