Daniel James Hennessy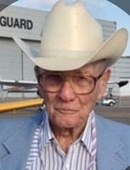 Daniel James Hennessy, "Buster" or "DJ" to his friends, a man of many accomplishments, passed away peacefully this past Monday, February 13, 2017. He was surrounded by his long time companion Mary Beth Ulat, his friend Lolita Laughlin, and the staff of IMU 9th Floor Alkek at Methodist Hospital.
Buster was born in New Orleans, Louisiana in November 13, 1921. He was the son of George Hennessy and Margaret Flannery and brother of Margaret Hennessy Smith. All of whom preceded Buster in death.
He lived a colorful and adventurous life. His favorite hat is his well-worn Stetson but throughout his life he wore many hats. In his early teens, he was a horse jockey for the Vanderbilts and won a race against Seabiscuit before Seabiscuit became famous. He was the kid in the neighborhood that had a horse named Pete. As a serviceman, he was a World War II pilot for the US Army Air Corps. As an airline captain, he has flown passengers on a Boeing 707 around the world for Pan Am Airlines. As a businessman and entrepreneur, he used to build tugboats and sailed them across the oceans. He has met and mingled with celebrities and politicians. He once rode a motorcycle across the US and almost died. He was once shot by thieves and almost died. He once had a heart attack and almost died. He loved Whataburger's apple fried pies, but didn't die from that. He loved his friends. He was a fighter. Sometimes, he fought with his friends. He never backed down from a fight. A few nights ago, he fought his last fight. Sadly, he lost.
Buster has lived in Houston for a great portion of his life. During that time, he was a proud decades long member of the Houston Livestock Show and Radio International Committee.
Buster was charming, a great storyteller, and loved sharing his past experiences with others. He was unique. His first impressions were always lasting impressions. He will be remembered fondly and be missed greatly by many.
We would like to thank Buster's friends for helping him live an incredible 95 years. Notably Sam Albaral, Prentiss Fatheree, Gene Ulat, Dr. Danny Cheng, the staff of 9th Floor Jones at Houston Methodist Hospital, and the staff of Garden Terrace on Cambridge Street.
Please join us this Saturday, February 18th, St. Vincent De Paul Catholic Church, 6800 Buffalo Speedway, Houston, TX 77025. Visitation begins at 10:15am. The Mass begins at 11:00am.
There will also be a Rosary Prayer Service at St. Vincent De Paul Catholic Church on Friday at 7:00pm with visitation from 6:30pm to 8:00pm.
Condolences may be offered at www.earthmanbellaire.com
Published in Houston Chronicle from Feb. 16 to Feb. 17, 2017 – See more at: http://www.legacy.com/obituaries/houstonchronicle/obituary.aspx?n=Daniel-James-Hennessy&pid=184148618#sthash.ke8eecAp.dpuf