Capt. Charles E. 'Chuck' Bassett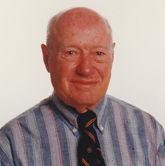 Capt. Charles E. 'Chuck' Bassett, long time resident of Jensen Beach, FL and Ridgefield, CT passed away on June 27, 2015. He was 100 years old on February 28, 2015.
He is preceded in death by his wife "Kit" of 63 years in July of 2003. Three sons, four grandchildren and 7 great grandchildren survive him.
After graduating from Purdue University with a degree in engineering he completed military flight training with the Army Air Corps in San Antonio, Texas. In 1940 Pan American World Airways hired him where he flew for 35 years.
As aviation progressed he flew the Douglas DC 3, the Boeing and Consolidated flying boats and a number of other piston powered aircraft up to and including the Boeing 707 and 747. He retired from Pan Am in 1975. During his career he was on several engineering committees representing the airline pilot group. One of which involved the Supersonic Transport or SST. During a demonstration flight at the Paris Air Show he flew the Concorde.
His love of flying never took precedence over the love he had for his family.
After retirement during the summer he continued flying his Republic Sea Bee in the North East. His winters spent in Jensen Beach involved many hours fishing in the Indian River and playing poker with friends at his condominium's clubhouse.
His burial will take place in his hometown of La Porte, Indiana.