Captain Robert D. Larsen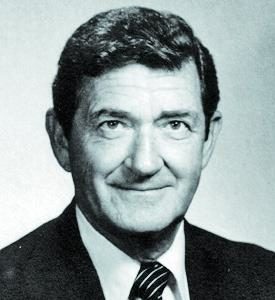 Captain Robert D. Larsen (Ret), 95, died peacefully in his home on the morning of March 9th, 2017, with his wife and son at his side. Robert was born on, July 11, 1921, in Seattle Washington.
The youngest of four children, he came of age in the midst of the Great Depression. Learning to make do with what was available, to not be wasteful and to work hard — were lessons which stayed with him until the end. He was studying dentistry at the University of Washington, rowing the eight-man shell for UW, taking flying instruction on Lake Union in a Taylor Craft with floats, and working at Boeing as a parts inspector in 1942 when the Japanese attacked Pearl Harbor.
Understanding that war was imminent he enlisted in the Army Air Corps as an airman. It was not long before he was through basic training, learning in the Stearman biplane, AT 6 Texan, among others. After cadet training he was attached to the 501st Squadron, the "Black Panthers", of the 345th Bomb Group of the 5th USAAF. Initially slated to go to England to support the British war effort, he and the rest of the squadron were instead directed to the Pacific Theater. The 345th Bomb Group set up at Port Moresby, New Guinea, becoming the first full air combat group sent to the South Pacific in World War II.
It was clear to all acquainted that flying was Robert's passion. He led his squadron in missions, for a period acted as squadron leader and earned a Purple Heart, Air Medal and one Oak Leaf Cluster. He continued to serve his country in war until which time he was honorably discharged, holding the rank of Lieutenant Colonel. He continued as an Air Force reservist for another 18 years.
After his active military service he found employment with Pan American World Airways, following in the footsteps of his older brother. Starting his career in the venerable Douglas DC-3, working his way through the stable of Pam Am airframes until 35 years later, in 1981, he retired as Captain Robert Larsen in the Boeing 747.
Throughout his life Robert was a very active man, running and jogging long before it was a "thing", skiing the alps on his winter layovers in the earliest version of Solomon's break-away bindings, playing tennis and golf as time allowed, and as a charter member of the International Federation of Flyfishers getting to the side of a slow moving stream to try his luck when the season was right.
It was during his career with Pan American that he met his future wife and lifetime companion Anne-Marie Liland. They spent 40 years living in Santa Rosa where Robert was a member of TROA, Sons of Norway, the Federation of Flyfishers, and the Pan Am Clipper Pioneers. They then moved to San Luis Obispo on the central coast of California.
He is survived by his wife of 48 years, Anne-Marie, his son Thor (Harmony), and his grandchildren Torunn and Magnus Larsen.
Published Online in the Press Democrat from Mar. 23 to Mar. 24, 2017
http://www.legacy.com/obituaries/pressdemocrat/obituary.aspx?page=lifestory&pid=184653189#sthash.W0oW5nwz.dpuf