Bobby Ray George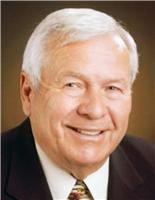 Bobby Ray George passed away in the early morning of May 2, surrounded by loved ones. He was 83 years old. He was preceded in death by sons William 'Jack' George and Bruce Johnson.
Bobby was born August 8, 1931 to Essie Virginia Ross and Andrew Jackson George in Bessemer, Alabama. He later moved to Russellville, Alabama where he graduated High School.From 1950-1954 Bobby was in the U.S. Air Force where he was a Technical Instructor, Aircraft and Engine Mechanic, Crew Chief, Senior Flight Mechanic, and Flight Engineer.
Upon leaving the Air Force, he attended Spartan School of Aeronautics and graduated with Aircraft and Power Plant License, and Flight Engineer License.In 1956, Bobby became a Flight Engineer with Pan American World Airways, New York., aircraft type DC-6 & DC-7.
Furloughed from PAA in 1960, he accepted a position in the Aviation Department of National Lead Co. During this period he completed courses on the maintenance and operation of the Grumman Gulfstream, and a maintenance course on turbo prop DART RDa7 Rolls Royce engines. In 1962, he was offered a position with the Federal Aviation Agency as a Flight Engineer Specialist and Classroom Instructor at the FAA Training Academy in Oklahoma City.
Recalled to Pan American as a pilot in 1964, he was assigned as a Flight Engineer. He started the climb up the corporate ladder to become Chief Flight Engineer of the Pacific Division. During his career with Pan American he served as Pilot, Flight Engineer, Check Flight Engineer, and Instructor. 
He retired in 1991 having achieved his goal of checking out as a B-747 Captain.
In 1970 Bobby married Constance Johnson. Besides having eight children between the two of them, they were kept very busy with raising Thorougbred horses on their ranch, first in Jamestown, CA and then in Linden, CA. From breeding to racing, this was their passion. Bobby was hands on and almost all foaling was done on their ranch. Many years were spent up and down the state of California breeding, training, selling, and racing.
He moved to the Lodi area in 2000 and shortly thereafter obtained a Real Estate license and became an agent for Century 21 Realtors in Lodi, CA, where he worked up until the last few weeks of his life.
Bobby is survived by his wife Connie George, children Debra Davis of Pleasanton, Cathryn Raffety of Lodi, Rod Johnson, Brad Johnson, and Colette Johnson of Sonora, and Carol Johnson of Modesto, sister Joy Berry of Northport, AL, and the most cherished of all, his numerous grandchildren and great-grandchildren in both California and Alabama who he loved very much.
A memorial service will be held Saturday, May 9, at 11 am at Cherokee Memorial Park,, Harney Lane at Hwy 99, in the Chapel of Flowers. A reception will be held immediately following the service.Memorial contributions may be made to Hospice of San Joaquin County.