2014 Obituaries
Remembering those who passed in 2014…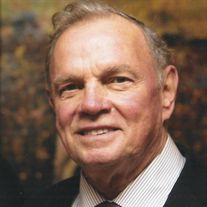 Thomas (Tom) Allen Bennett peacefully died in his home on December 9, 2014. Affectionately known as "Skipper" to his friends, Tom was born on February 19, 1939 in Englewood, NJ to the late Madeline and Edwin K. Bennett. He attended the University of Memphis and graduated from Christian Brothers University, Following graduation, Tom realized a life-long passion for flying as he proudly served as a 29-year veteran pilot in the Air National Guard as a Lieutenant Colonel and enjoyed a 30-year career as an airline pilot in the position of Captain for both Pan Am and United Airlines. The majority of his service was spent in California. READ MORE>>>
Allan H Locher, of Kerrville, TX Flew West on 12/8/2014.
Ron Hay passed away on Oct. 8, 2014 at the age of 89.
Capt. Vince Reilly passed away on Oct. 3, 2014. More to follow.

Long time Eastside resident, Herbert L. Stevenson, passed awayOctober 10, 2014 at age 96, at Overlake Hospital in Redmond, WA, with family and close friends close by as he took his last "flight." Herb was born November 1, 1918 in San Francisco, and raised in Fort Bragg, a small coastal town in northern California where his parents, Kenneth and Ella Stevenson, owned a Ford dealership. He attended Santa Rosa Junior College and the University of Washington studying aeronautical engineering. While attending the UW, he met his wife of 74 years, Jeanne Graham Stevenson. READ MORE>>>
Joseph T. Etherson, 77, long time past resident of Ft. Myers, a retired Pan Am pilot and Air Force Major (retired), took his last flight 21 Sep 2014. He was born in Brooklyn, New York 24 Dec 1936 to Joseph and Mary (Gleason). His dream to become a pilot came true after joining the Air Force Cadet Program and getting his wings. He then went to B-47 training at McConnell AFB in Wichita, KS where he met his future wife, Diane Devins. After leaving the Air Force he flew briefly with Mohawk Airlines and then joined Pan Am, flying w/them next 25 years 707's, 727's and 747's. When asked what he did for a living he would jokingly say, "I drive l8 wheelers". He loved tennis, golf, doing cross word puzzles; an avid reader and loved to play bridge.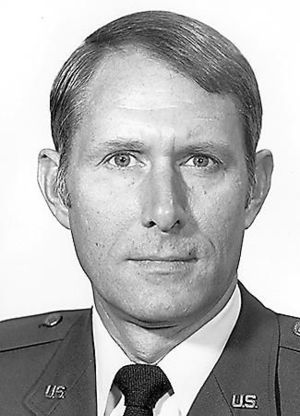 Thomas L. "Tom" Cope, 75, of Bethel, PA and formerly of Manheim, passed away unexpectedly at Thomas Jefferson University Hospital on Saturday, August 9, 2014 after enjoying one final, wonderful family vacation to Bethany Beach, DE. Born in Ephrata, he was the son of the late John F. and A. Irene Groff Cope. Tom was the loving husband of Ruth E. Snyder Cope with whom he celebrated their 54th wedding anniversary on August 6 during the family vacation. MORE>>>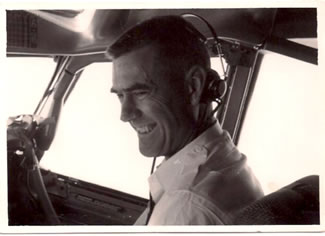 Roy F. Eckert, Oct. 11, 1916 – Aug. 27, 2014. During his 32-year career, Roy flew many piston-engine commercial aircraft, including the Martin M-130 "China Clipper," Douglas DC-3, DC-4, DC-6, DC-7C and Boeing 377 Stratocruiser. When he finally checked out as Captain, it was on the first jet flown by Pan Am, the Boeing 707. MORE>>>
Captain Joe Haselby, PAA/DL pilot, passed away at age 79. He was born/raised in the Ann Arbor, Michigan area. He attended the University of Michigan and was a Navy fighter pilot ( USS Coral Sea , CVA-43 ). He joined Pan American 01-31-1966. He flew the Berlin routes during much of his time with Pan Am, circa 1976 until the merger with Delta in 1991, and he had been living in Berlin these past years.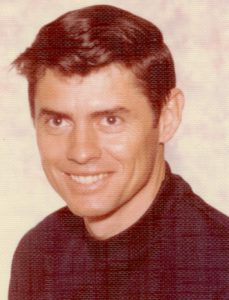 Chester Dale 'Chet' Bailey, age 80 passed away on July 22, 2014. USAF veteran retired PAA/DL pilot Captain was born Nov. 25, 1933. Captain Bailey joined Pan American 01-04-1965 and retired with Delta Air Lines at the mandatory age 60 in 1993, based 031/NYC. Captain Bailey had most recently resided at 266 Pine Needle Lane, Bigfork MT. READ MORE >>>
Sherman Carr – It is with great sadness that our fabulous host for many a World Wings party has died. He had been battling Prostate cancer for 20 years. He peacefully passed away on July 22, 2014, in his own home after being in hospice. His wife Mary was continuously with him the last days of his life.
Joseph L. Flynn, 96, of Naples, FL passed away peacefully on Thursday, April 3, 2014 at his residence. Formerly of New Canaan and Wilton, CT, he had been a resident of Naples and the Audubon Country Club since 1990. Joseph was born on July 3, 1917 in Bridgeville, PA a son of the late Frank E. and Edna (Lutz) Flynn. Joe was raised in Youngstown, OH. MORE>>>He graduated from Amherst College in Amherst, MA, Class of 1939 and Harvard Business School in Boston, MA, Class of 1941, where he was a member of both schools' flying clubs. Joe's passion was flying; he soloed at the age of 17. Mr. Flynn was hired by Pan American World Airways in 1941 and flew the Boeing 314 "Flying Boat" during WWII. This was at a time when the US Government used PAN AM's B314 to operate the Air Ferries Division which supplemented the air transport activities of both the US Navy and US Army Corps helping ferry war materials and personnel to Africa.
Robert James Condy, 86, of Los Gatos, CA died June 5th, 2014. He passed away peacefully at home in the company of family and close friends. Bob was born in Idaho, served in the Army in Kansas, earned his degree at University of Denver, worked for General Electric in New York, was a Special Agent with the FBI in Oklahoma, and then flew around the world as a pilot for Pan American World Airways for 25 years before retiring. He was an entrepreneur and enjoyed establishing small businesses over the years, which meshed well with his appreciation for meeting new people and exchanging stories. He will be missed by many.
Walter George Viator, 89, passed away on June 3, 2014. Walter was an avid golfer and loved dancing. He spent his younger years sailing and boating. Walter was a Sergeant in the USMC and a Marine Corp fighter pilot in WW II and later a Pilot for Pan Am for 25 years. Walter was a devoted husband and father. He was pre-deceased by his wife, Grace and their son, Bill and Walters's second wife, Jane. He is survived by his son, Walter Viator (Rolena); daughter Stephanie Viator Reece; granddaughters Rachel Lavish Hannan and Summer Viator and grandson Hunter Viator. Celebration of Life Services will begin at 11 AM Saturday, June 21, 2014 at Stanfill Funeral Home followed by inurnment at Woodlawn Park South.
Robert Joseph Durant passed away peacefully in his home on May 21, 2014. In December 2012 he had suffered a stroke, from which he never fully recovered. Bob flew in the Navy until joining Pan Am in 1967, and remained with Pan Am until he transitioned to Delta Airlines when Pan Am ceased operations.MORE>>>
Donald Dee Bond, born on Nov. 9, 1919, left on his final flight in the early hours of Christmas morning, Dec. 25, 2013. He kept his bags packed for this last trip and always said he was ready to take it at any time. While his pre-flight plan had not been made, his unexpted departure weather was calm and peaceful …no storms or turbulence.
Captain Joe Flynn has "flown west" at the age of 97. He was one of the last "boat drivers".
Frank Reeves passed away Feb. 9, 2014 with son Jon and daughter Keri by his side. He was predeceased by his wife Jane, who was a Pan Am stewardess. Frank was born March 7, 1928 in Nashville, TN where his love of airplanes began with controlled models to airline and Navy mechanic, and then 33 years as a Flight Engineer with Pan Am. In retirement, he was an EAA member, worked on building his BD4, and enjoyed being the neighborhood "fix it" guy.
William H. Seeman passed on the event of March 28, 2014. He had an incredible mind until the very end. He died peacefully at home surrounded by his family.
Captain Tom Combellick passed away in March 2014. One of Bob's greatest passions was flying for Pan American Airways.
Bob Arnholt was 91 and passed away just prior to Memorial Day. He has two sons and a daughter. A World War 2 veteran and flew B-24's before joining Pan Am. Read More>>>
Vera Campbell, wife of Captain F.D. "Duke" Campbell, passed away at the age of 94. Vera lived independently in their lovely home on Vashon Island, near Seattle, until March 1st of this year. Duke flew with Pan Am from 1940-1977, then became Treasurer of the Clipper Pioneers. Vera assisted Duke with the Clipper Pioneers Newsletter for many years. Duke passed away in 2002. They are sorely missed by their 6 children (the eldest daughter, Karen, was a PAA flight attendant), their 11 grandchildren, and their 11 great-grandchildren. Vera was admired for her gentle and sweet disposition. Her warmth and welcoming spirit was admired by all. A celebration of Vera's life will be held in their Vashon home on June 28, 1-4pm. All friends are welcome to attend.
Fred Joseph Linari, 92, of Honolulu, a retired Pan American World Airlines captain, died at home on Nov. 1, 2012. He was born in San Francisco on July 21, 1920. He is survived by sons Fred J. Jr. and Steven J., daughter Anne M., six grandchildren and a great-grandchild. Services: 7:30 p.m. Friday at Kapahulu Bible Church, 3224 Kaunaoa Ave.
Robert "Mike" McCoy, age 71 a native of Los Angeles, and a former resident of Fresno for 25 years passed away on April 12, 2012 iin Redwood City where he lived the last three years. READ MORE>>>>
Maurice Proctor, passed away today in Panama City, FL. Captain Proctor was almost 99 years of age and spent the last few days in hospice care. He will be buried in NC next week with his wife Miriam. More to follow.
Bernice Henry Rathmell died Thursday, March 27, 2014, at the amazing age of 96 years. Born May 11, 1917, in Hyde Park, Pa., she was the daughter of the late Thomas and Anna (Shay) Henry and wife of the late John Nicely Rathmell, who preceded her in death on Jan. 15, 2004. worked for Pan American Airline as an instructor on Link Trainers, the flight simulators used to train commercial pilots. After her marriage to John and while he was overseas during World War II, Bernice worked in Ohio at a flight training school for "ferry pilots," training young pilots to ferry planes to various domestic locations. She then returned to New York City, working for United Airlines interviewing and testing applicants including pilots returning from European duty. READ MORE>>>
John Freer, 94, of Eustis, passed away Wednesday, March 12. He was a pilot for Pan American Airlines, and loved flying his entire life. Born in New York, NY, he moved first to Miami, then to Eustis in 1985. He had a true zest for life and lived it to the fullest.
John A. Walker passed away on February 24, 2014 at the age of 92. He flew for Pan Am for 39 years (1942 – 1981) and flew everything from Flying Boats to 747s. He had a notable career as he was Vice-President/Chief Pilot for Flight Standards and was the first pilot trained by Boeing to fly the 747 (Nov. 1969). He was then in charge of training as many flight crews as possible in a short period of time as Pan Am was receiving a large number for the first 747s. Pan Am (using a former SAC air force base in New Mexico) had two 747s flying 24/7 training crews.
Captain Bob Minney, 93-1/2 years, passed away on Jan. 28, 2014 at his home in Mt. Diablo's Curry Canyon, Clayton, CA. Born in Oakland, CA, graduate of U.C. Berkeley, 4 year Navy pilot in World War II, SF Hastings Law, and spent 34 years flying most of Pan Am's routes. Survived by spouse former FAA stewardess Rose Crassan, son Mike, daughter Kerri & 3 grandchildren. No services. Ashes scattered by plane over Pacific Ocean off SF Golden Gate.
Captain Richard T. Brooks passed away unexpectedly on March 9, 2014at the age of 72. He flew for Pan American from 1964 to 1986, and for United from 1986 until retirement.
John G. Bigelow, former IGS chief pilot and Director of Operations, Europe, passed away 15 February, 2014 in Stuart, FL. Bigelow's multi-faceted career included assignments with Pan Am's Technical Assistance programs as chief pilot of the Afghan airline Ariana and Air Zaire, and duty as training captain and Mgr, Flying Training at NYC. On retiring from Pan Am, he served as an instructor pilot with Airbus Industrie in Toulouse, France, and later in Miami.
Robert Paul "Gicker" Gick passed away on Saturday, Feb. 2, 2014 in Warrington, PA.