Welcome to Clipper Pioneers!
The

February 2018

of our newsletter is now available. It's limited to paid members or their spouses. Take the opportunity to join us now –

click here

.
---
UPCOMING EVENTS
~~~~~~~~~~~~~~~~
PAN AM'S WORLDWIDE
FAMILY REUNION
NEXT PAN AM REUNION CRUISE ~
APRIL 22 – MAY 6, 2018

~~~~~~~~~~~~~~~~
CLICK HERE FOR MORE INFORMATION
on the above events.
---
A Great Holiday Gift about Pan Am
As the Holiday Season is fast approaching, it comes time to think about those gifts for friends and loved-ones. As many of you know, the Pan Am Historical Foundation recently published the highly acclaimed Pan Am – Personal Tributes to a Global Aviation Pioneer, a book that caught the attention of Pan Amers and aviation enthusiasts around the world. The initial sales have been excellent and now into the sixth month since publication, the orders continue to come in.
This book may very well be one of the best – if not the best – book ever published about Pan Am. Rebecca Maksel, in the respected aviation journal Air & Space, published by the Smithsonian, wrote this about the book:
"Pan Am—Personal Tributes to a Global Aviation Pioneer is just that: An insider's look at the airline from those who worked there. In addition to a history of Pan Am, the book also includes the esoteric: an interview with artist Milton Hebald, who sculpted the 15-foot bronze signs of the zodiac that graced the façade of the Pan Am building at JFK; a reminiscence from an employee who worked at Pan Am's Counter Vanderbilt, the largest ticket counter in the world; and a mournful remembrance from a flight attendant who flew aboard the White House press charter the day President John F. Kennedy was assassinated in Dallas. Readers will learn about flights behind the Iron Curtain and Pan Am rescues of American citizens stranded by wars, revolutions, and earthquakes. The airline even had a waiting list for passengers interested in future trips to the moon."
This book belongs in every Pan Amer's library, and we are fortunate to have inventory available from the original print order to offer a special price of $35 per single copy to friends and family of Pan Am. For those wishing to purchase five or more copies, the savings will be even better at $30 per copy. Shipping will be free for orders within the United States. For international orders, please add $50 per copy for shipping due to USPS international postage rates.
Visit www.panam90book.com to learn more and to order the book.
---
Clipper Pioneers Cruise 17 March 2017
---
Pan Am Museum Foundation
December 3 Inaugural Clipper Gala!
Taking Flight
Pan Am's Legacy Lives Again
The Gala Opening of Phase 1 of the Pan Am Museum
CLICK HERE FOR MORE INFORMATION

ANNOUNCEMENT:
Regarding Bill Frisbie's services there will be an event at the Grass Valley Airport at 1100 on
Saturday, October 22nd
and a Church service at the Sierra Presbyterian Church at 175 Ridge Road, Nevada City at 1300
on Sunday the 23rd
. Hope you can attend.
PAN AM 2016 SAN JOSE' PICNIC.
Photos by Evelyn David
Annual Clipper Pioneers Port Jefferson lunch held on June 16, 2016
---
April 16, 2016
Ducks, Survivors,
As many of you are aware, the "old" Pan Am people are having a reunion in Shannon, Ireland, as I write. This will probably be the last world reunion that they ever have. Below is a clip from Irish television of the reunion. There are some good shots of the Boeing 314 flying boat. A great replica of this airplane is today in a museum just to the south of Shannon. Note all the "old" people who can still get their uniforms on and who still look good.
~Bill Hoover
You can view the clip here: https://www.facebook.com/rtenews/videos/1285838841445115/?fref=nf
As of Dec. 2017, sadly, the Pan Am Reunion
scheduled for Foynes & Limerick, Ireland
May 2018 has been cancelled from the tour due to the Museum's being flooded.
May 4, 2016
Thank you from Margaret O'Shaughnessy re Ireland's event
I want to sincerely thank you all for the great support you gave me in putting this event together [ reunion in Shannon, Ireland,] I can honestly say it was the most rewarding work I have ever done after starting the museum. I have made so many wonderful friends that I hope to keep in touch with for the future. I am also delighted to be considered a member of the Pan am Family now!!
Our National TV station broadcast their programme last night and again I got hundreds of emails and text messages after it showing. I understand you can view it online in the US and I am giving you a link that should work. http://www.rte.ie/player/us/show/nationwide-21/10566026/
China Clipper First Officer Robert Hicks (94); Merry Barton, daughter of Folger Athearn (Pan Am's station manager in Noumea, New Caledonia in 1941); Director of the Foynes Flying Boat Museum Margaret O'Shaughnessy; Ed Trippe and Mary Lou Bigelow were interviewed during the Foynes Flying Boat reunion.
~Margaret O'Shaughnessy
National TV, Ireland – Clip about Irish PAA reunion: http://www.rte.ie/player/us/show/nationwide-21/10566026/
---
Pan American Airways
Crew Layovers
The best of times.
(Click on the link below)
---
PORT JEFFERSON JUNE 18, 2015 LUNCHEON
PHOTOGRAPHS BY ROBERT A. GENNA (click on image for larger view)

---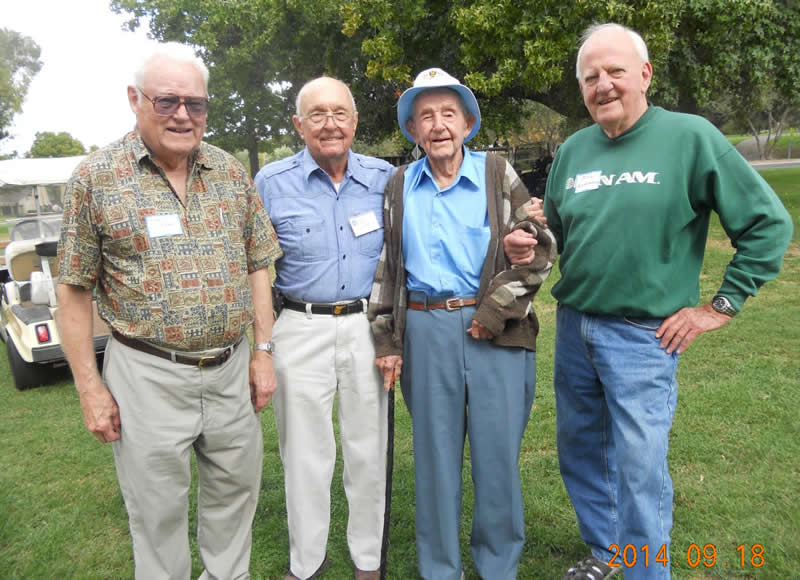 We had our PAA Flight Engineers' picnic last week. The guy on the left is Jim ???? and the next guy is Bill Glathe. Bill and I were in the same Reserve Squadron at Alameda. Bill had an old Slope – backed Volvo and I had that old Jaguar with the patched paint. We used to admire our cars driving up to Alameda. Bill was a Sigma Chi from Stanford and had been a springboard diver on their swim team. And the guy with the blue hat is Gerry Mahan, a real old timer and had flown on the old Pan Am flying Boats! (sigh) POP
---
The Annual PAA Oktoberfest was held in Danbury, CT on October 5, 2014.
Click here to see some of the photos taken at the event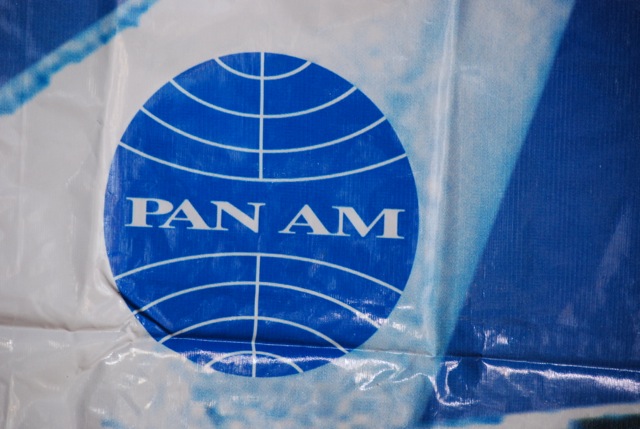 ---
"What did I expect to see when I got to the moon, you ask? I expected to see an old Gooney Bird sitting up there waiting for me, because there's just no place they can't fly." ~Neil Armstrong
TRIBUTE TO THE DC-3
In fifty-one they tried to ground the noble DC-3
And some lawyers brought the case before the C.A.B.
The board examined all the facts behind their great oak portal
And pronounced these simple words "The Gooney Bird's Immortal"
The Army toast their Sky Train in lousy scotch and soda
The Tommies raise their glasses high to cheer their old Dakota
Some claim the C-47's best, or the gallant R4D
Forget that claim, they're all the same, they're the noble DC-3.
Douglas built the ship to last, but nobody expected
This crazy heap would fly and fly, no matter how they wrecked it
While nations fall and men retire, and jets go obsolete
The Gooney Bird flies on and on at eleven thousand feet.
No matter what they do to her the Gooney Bird still flies.
One crippled plane was fitted out with one wing half the size
She hunched her shoulders, then took off (I know this makes you laugh)
One wing askew, and yet she flew, the DC-3 and a half.
She had her faults, but after all, who's perfect in every sphere?
Her heating system was a gem; we loved her for her gear.
Of course the windows leaked a bit when the rain came pouring down.
She'd keep you warm, but in a storm, it's possible you'd drown.
Well now she flies the feeder lines and carries all the freight.
She's just an airborne office, a flying twelve ton crate.
They patched her up with masking tape, with paper clips and strings,
And still she flies, she never dies, Methuselah with wings.
— unknown
---
Turn the sound on and enjoy some Aviation history – Click to Watch!
---
Flying high: Remembering Pan Am
|
It was an aviation pioneer, and became a symbol of America during the Golden Age of air travel. But while Pan Am no longer flies the friendly skies, many of the women who proudly wore the Pan Am uniform talked with Connor Knighton about the glory days – when flying was glamorous, complete with gourmet food on board.
Watch the video on CBS.com
---
Many of us in the 80's flew Pan Am to Singapore and many of the spots mentioned in SE Asia and beyond.
A LOT OF MEMORIES HERE.. YOU CAN REALLY APPRECIATE THIS IF YOU WERE IN THE INDUSTRY AS A CREW MEMBER DURING A SEGMENT OF THESE GOLDEN YEARS IN U.S. AVIATION. I'M FOREVER GRATEFUL TO HAVE BEEN PART OF THIS UNIQUE AND ENVIABLE FRATERNITY. A CORNUCOPIA OF MEMORIES AND COLLECTION OF LIFE LONG FRIENDSHIPS THAT ARE PRICELESS…
This PAA video is 30-minutes of unmitigated, nothing-short-of-exquisite bliss. Many thanks for the first-class ride, "Clipper"… & for all those flawless 'crossings'!!!
A wonderful tour of the world's airports and cities courtesy of Rich Beesley, a PAA flight-crewmember…
---
Dear All,

You may have seen this before because it's been around for over a year. But if not, and you have even a passing interest in commercial aviation, the following will be an hour well spent. I'd seen parts of this before, but never the full production. All of us who were part of the airline, and especially the flight crews, will recognize so very much. So grab a cup of coffee or whatever, and enjoy a trip through history.

If you have not seen this it is worth the 58 minutes.
http://vimeo.com/32642328

Best regards,

Al Charlevois

---
Fred McGary, spouse of a retired airline employee, has a new website –
www.usairporttocity.com
that offers information about 51 US airports, 8 Canada airports and 17 Europe Airports all in one place. Each airport page has links to the official airport web site and sites of public transportation agencies serving the airport. Local transit information is given on each page and a Google Transit Map is provided when available.
---
Remembering Air Travel's Golden Era, by the Wall Street Journal – an article with photos from the Pan Am's reunion in Miami. Click here for some great photos!
---
---
November 23, 2011
As explained by Jane Euler and Anne Sweeney below, watching this BBC documentary takes an hour. I think you will not agree with everything in it because it is so much the expressions of individuals—but, if you take the time to watch, you will find it very, very good.
For those who are not technologically inclined, after you click on the underlined words (way down the screen below the messages from Jane and Anne– the link begins with http:// ), you will find a very busy screen. Click on the right-pointing arrow at the bottom of the screen to start the show rolling. You must sit through a short advertisement before the documentary starts. You should also click on the box (four arrows pointing outward) that expands the picture to "full screen." After the documentary is over, you get out of the full screen mode by clicking the ESC (escape) key on your keyboard.
You need to have an hour, but watching is worth the effort.
Click here – Pan Am Story on BBC – to watch the video.
---
This is an incredible collection of photos on Pan Am's history. It was forwarded by an ex employee, Arthur Rindner who now lives in Israel. I think these are some of the best Pan Am photos I have ever seen.
Enjoy…………………………Tony
Definitely, this is the best collection. Hope you all enjoy. Thanks Tony and Trudy for sending these. And also to Arthur who has definitely shown how deep his heart is still with Pan Am. Vickie
Don't Miss This One! A Fantastic Powerpoint presentation of the history of Pan Am. Click here.
(Don't have a Power Point viewer? Download it for free – click here.)
---
JOIN THE CLIPPER PIONEERS!
Would you like to receive our newsletter
& enjoy the benefits of the Clipper Pioneers? Click here to join us